 Check Any Car History & Make a Smart Decision
Enter licence plate or registration number: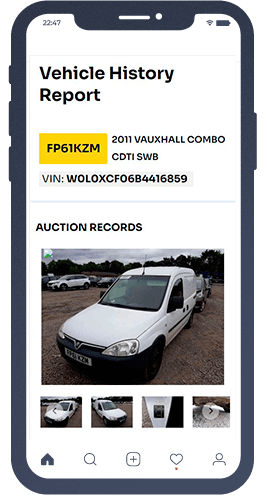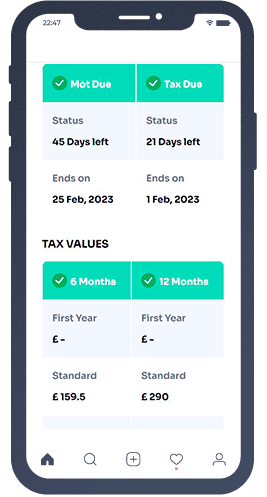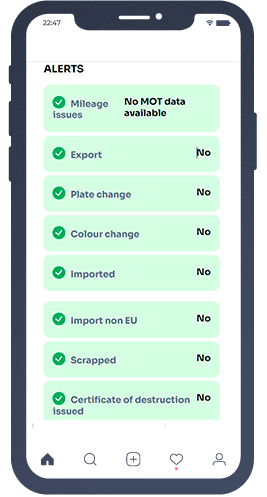 Get our Smart Car Check Mobile App
Are you looking for the best car history check UK? Make a smart decision with Smart Car Check App. Perform a
Reg number check in the UK
to uncover any past problems and hidden history that the seller will not tell you.
Why Should You Run a Smart Car Check?
Shopping for a used car in the UK?
It's a dodgy market and more than half of used cars in the UK have a hidden history that the seller does not want you to know about. Find car details from registration Now!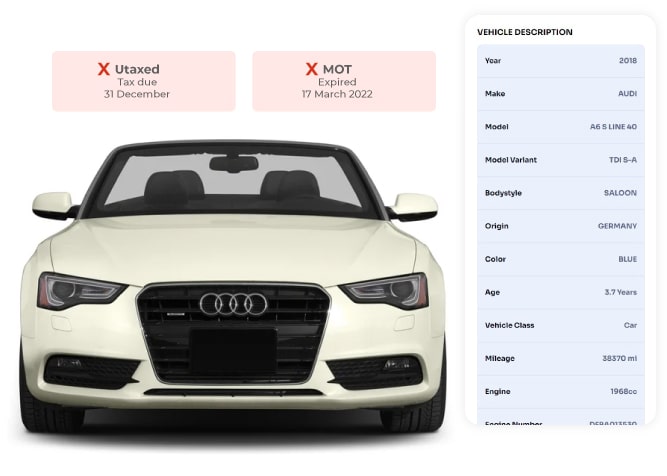 Getting a Smart Car Check is important due to some of the following reasons:
What Does Our Vehicle Report Include?
Our database is massive and ever growing as 33 million cars drive on the UK roads daily. Smart Car Check runs checks from many databases on almost every vehicle worldwide. We are the only vehicle report provider to offer auction history records with exclusive photos with every Smart Car Check.
Basic Car Check Vs Premium Car Check
Characteristics

Basic Report

Premium Report

Vehicle registration details

Number of previous keepers

Certificate of destruction issued

Electric vehicle charging data
Eye-Opening Key Statistics for UK Vehicles You Need to Know
of U.K. Vehicles Have a Hidden History
52% of vehicles sold in the UK used car market has a hidden history-something the seller does not want you to know. UK used car markets are full of bargains and hidden gems but there are also a lot of scams and dodgy vehicles. Get vehicle details from our report to make sure that you buy a trustworthy vehicle.
Vehicles Sold Weekly at Auction
There are over 12,000 vehicles sold at motor auctions each week. Car auctions are booming in the UK due to the return of physical sales. We are the only provider in the UK for complete auction records and spectacular photos of the vehicle at the auction.
Million Clocked Vehicles on the Roads
There are 2.3-2.5 million clocked vehicles on the UK roads today with the Citroen Dispatch, Renault Scenic, and Peugeot Expert models most likely to be clocked. Car clocking can increase used car prices by thousands of pounds. Be aware if someone fiddled with the odometer. And our car reg check UK is here to help.
Benefits of Checking Every Used Car with Smart Car Check
A Smart Car Check Is a Key to the Car's Past and Present Unlock the Data and Be Smart
What our Happy Customers are Saying
We take great pride in providing the best products at the most affordable prices to our customers. Our customers save a lot of money and valuable time by making smart and informed decisions on their next used vehicle purchase. We are happy to share all the wonderful feedback we have received from our customers. Our overall success and motivation are driven by our customer's feedback on the full experience with our products and services.
FAQs - Frequently Asked Questions