Car buyers are recommended to dive into their vehicle's history before purchasing cars at used cars dealerships. A car history check helps uncover a vehicle's history and serves as a guide in the decision-making process. To easily decode a vehicle registration number, these car buyers, keepers, or sellers would have to use a car history check tool. The SmartCarCheck car registration check application is your solution. With this app you can easily decode your car registration number and uncover the hidden history of your vehicle in the United Kingdom. In this article, we will be discussing the car registration check app launched by SmartCarCheck.
The car registration check app, "Smart Car Check", utilizes data from different government agencies, car manufacturers, insurance companies, and others to provide accurate vehicle information to customers in need of car data. The Car Check app provides access to past records and history that a dealer or private seller would most likely not tell you, and you can easily perform the following checks:
Vehicle MOT check
DVLA car tax check
Car owner check UK
MOT insurance checker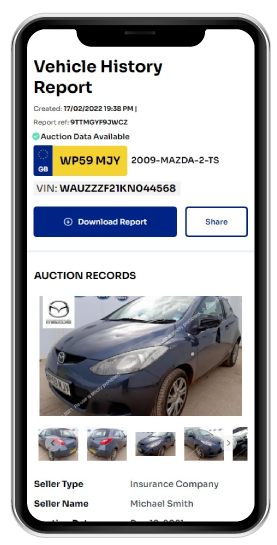 What information is included in a car check report?
The Smart Car Check app is an app for checking car history designed for car buyers in the UK. This car check app provides accurate information about UK vehicles, including auction history, with which you can find the condition of your vehicle during the auctions it has been in. Some of the information included in a car check report offered by the Smart Car Check app includes:
Vehicle specifications and vehicle registration details
Auction records with photos
MOT and tax dues
Imported/Imported Non-EU
Mileage History and Mileage Discrepancy
MOT history with advisory details and notes
ULEZ compliance
Running costs
Vehicle performance
Fuel economy
CO2 emissions
Vehicle log book details
Number of previous keepers
Number of plate changes
Color changes
SMMT details
"Scrapped" alerts
Certificate of destruction issued
Electric vehicle charging data and more.
ALSO READ: How To Check Vehicle Engine Size By Registration Plate In the UK
Imagine walking through a dealership's inventory with all of the above-listed information available with just one click. You can easily scroll through the details of the cars you are interested in and select the best car with the best records.
Are you looking for a vehicle check app that you can rely on to provide you with accurate information and records from government agencies? Then SmartCarCheck car registration check app is your answer.
Why Should You Run a Car Check?
With the rate of stolen cars in the UK, there is a possibility that you may be purchasing a vehicle with a hidden history. To uncover the hidden history behind the vehicle of interest, simply run a car check with the best free car check app available, provided by Smart Car Check. With the information you get, you are less likely to fall victim to scams, and you will have better chances of sealing a good deal at a great price.
Some of the benefits of using the Smart Car Check vehicle check app are:
Unrestricted access to vehicle history
When a customer buys a report on the Smart Car Check app, they are provided with unrestricted access to the history reports of their cars. These reports have no expiration date and can be referred to when the need arises. They contain vital information ranging from vehicle specifications to vehicle descriptions and MOT history, among other details.
Easy identification of odometer fraud
Odometer fraud is a criminal act that involves the reduction of a vehicle's mileage and age to trick consumers into paying more for a vehicle. With the vehicle check app, car buyers can track the exact mileage readings on their vehicles and know the exact ages of their vehicles. If you suspect your vehicle's mileage has been reduced, generate a car history report and clear your doubts.
Discover the alerts on your vehicle
There are several alerts that could be active on your vehicle. A dealership may not make it obvious, but you can discover the active alerts on your vehicle with a simple car history check with the Smart Car Check app. Some of the alerts that can be identified with the car registration check app include:
 Mileage issues
Export
Plate change
Color change
Import non-EU
Scrapped
Certificate of destruction issued
Open recall
Importing records
Better negotiations
Want to make better negotiations and purchase that used car at an affordable price? Then generate a vehicle history report. With the car check app provided by Smart Car Check, you can easily judge a vehicle's worth from its history. In a car history report provided by the Smart Car Check app, you gain direct access to a vehicle's market value. With this information, you can have better negotiations and purchase your preferred vehicle at an affordable price.
Get ownership history
Having an idea of the ownership history of your vehicle helps in analyzing the overall reliability of the vehicle you are interested in. If it was sold multiple times within a short period of time, you can assume that the vehicle either has a mechanical defect or a damaged safety feature, both of which are signs that the vehicle may incur repair costs in the future. With the best app to check car history provided by Smart Car Check, you can be sure to have accurate ownership information and purchase a reliable vehicle from any dealership.
These are some of the benefits of the Smart Car Check vehicle check app.
ALSO READ: How To Check Vehicle Weight By Registration | Simple Ways
Why choose the Smart Car Check UK app?
The Smart Car Check UK app stands out among other vehicle history check apps in the UK because it provides:
Automatic number plate recognition (ANPR)
Affordable car checks.
Accurate and detailed MOT history check.
Unrestricted access to vehicle history
Accurate mileage readings
Full reports with flexible pricing plans
24/7 live chat support
The Smart Car Check app continues to provide accurate information to vehicle keepers, buyers, and sellers whenever necessary.
How to Use the Smart Car Check UK App
To make use of the Smart Car Check app to get the vehicle history of your vehicle, simply follow these steps:
Download and install the Smart Car Check app.
Create an account with your email address and a unique password.
Locate your vehicle's registration number or license plate number.
After locating your registration number, you can either scan or manually enter your registration number.
Select "Check vehicle" to gain access to your MOT and tax due dates, vehicle specifications, registration year, and other data, all for free. For more information, however, you may be asked to pay a fee.
That's all you need to do to access your vehicle's records and history and generate a vehicle history report. The Smart Car Check app has helped car buyers make the best choices for themselves with the provision of accurate vehicle information. With vehicle specifications and records, you can easily outsmart any dealer or private seller looking to trick you into purchasing damaged vehicles, gain access to your vehicle's true mileage and age, expose mileage discrepancies, and make informed decisions.